The Faculty makes up the body of wisdom, expertise and knowledge of The Center and consists of a community of individuals in various walks of life who offer workshops and courses through The Center. Many of the faculty offer professional services. See below for individual pages with news information about them or click the names if they are "live".
Mark Hunziker
is a teacher and consultant whose goal is to help clients lead a life of authenticity, effectiveness, integrity, and well-being. By helping clients understand how they habitually think, make choices, and relate to others, he opens windows into the core of who they truly are. Clarity about our natural gifts and challenges illuminates our "life mission" pathway and allows us to step into the personal power of who we are meant to be. Mark is an internationally recognized, certified personality type Master Practitioner and co-author of the influential Jung's Mental Processes: Building Blocks of Personality Type.
Patrick Ross, P.E.,
provides you with a reading that integrates Jungian thought, astrology and counseling. Drawing on his personal experience of a major mid-life change, Pat will help you navigate the challenges of living your life purpose by drawing on the wisdom contained in your astrological chart. An environmental engineer and practicing astrologer, Pat holds an Associate's degree in Automotive Technology and a Bachelor's degree in Civil Engineering.
Dr. Susan Mehrtens,
President of The Jungian Center for the Spiritual Sciences, coordinates the Life Mission Institute program, teaches the core course, provides basic orientation and works with each participant to integrate and apply what they have learned. To her work in personal transformation she brings over two decades of experience in Jungian analysis and dream work. She received a Master's degree from Atlantic University and a Ph.D. from Yale University. She is the author, co-author or editor of 8 books, including The Fourth Wave, Intuitive Imagery, and Revisioning Science.
Cornelia Ward
Cornelia Ward is currently training with Caroline Myss to be a Sacred Contracts Archetypal Consultant.  She is certified by Doreen Virtue as an ANGEL THERAPY PRACTITIONER® www.corneliaward.blogspot.com
Janet Savage,
Master Hand Analyst, helps you claim your personal story on the path to Life Purpose fulfillment.  By combining the ancient art of palmistry and the contemporary science of fingerprint analysis, she works with you to discover your highest path and to uncover what is blocking you from living it.  She is on the faculty of the International Institute of Hand Analysis (IIHA).  With a Masters Degree in Public Health from Columbia University and 30 years of practice, she brings expertise in leadership training, health counseling, career development and adult education to help you on your journey.
Sara Waskuch
brings her many years of experience as a business owner, retail marketing manager and public relations consultant to any entrepreneur who would like to start their own business.  From defining your dream to helping set realistic goals, writing a business plan for success or learning to manage your life, Sara has the creative acumen to help bring it all together for you.  She offers coaching and workshops in creative business planning, marketing and  creative thinking.  She has a degree in Journalism and owns Creative Solutions.
Rachel Chevalier learned to dowse shortly after moving to Vermont in 2001. This opened up a world of possibilities to her and she is currently finishing up an MA in Integrative Health at the Graduate Institute in CT. Trained in measuring, scanning and balancing the body's bio-energy field with a European system called i-health, she enjoys sharing wisdom about the body's innate intelligence. Rachel owns the Depot Street Malt Shop in Stowe with her husband, Marc.
Susan J. Ackerman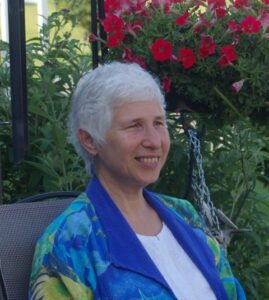 . Susan has been giving Astrological Insight Readings for over 30 years to help people in their search for their life direction, gifts, and challenges.  She has an M.Ed. in Counseling and an M.A.T. in Teaching. She teaches classes on Astrology, A Spiritual Science in Northern New Hampshire, on Increasing Your Inner Peace, in Lancaster, NH, is a visiting professor at the Jungian Center and offers Readings and classes at Balancing Bethlehem.  Susan is co-author of the Divination cards, based on Astrology, "The Astro Guide", "The Oracle", and "Insight" and is author of "Ella's Journey from Sadness to Hope". You can read more about her writing at www.comfortingthoughts.com. She is an active member of the Educational Society, Delta Kappa Gamma, a member of the American Federation of Astrologers and an active volunteer in the local hospice organization. For more information, visit lifeinsightastrology.com